Maharajah Ranjit Singh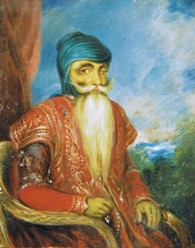 Ranjit Singh was born on the13 November 1780 in the village Badrukha. At the time of his birth Mahan Singh was away at war. On hearing from a messenger that his wife had given birth to a son and had decided to name him 'Budh Singh' after his great-great-grandfather, Mahan Singh overruled and stated 'He will be called Ranjit' the name meaning 'the victor of battles.' Ranjit Singh suffered ill health at a young age, which left his face pot marked and blind in the left eye. This setback did not deter the young Ranjit Singh, who at the age of 14 years took part in his first battle. In 1799 with the help of Sada Kaur, Ranjit Singh took Lahore, the capital city of the province of Punjab, from its weak rulers Gujjar Singh, Lehna Singh and Sobha Singh.[i] The people of Lahore had become tired of the bad administrating and rule in the city, and had voiced over their grievances to Ranjit Singh. At night-fall Ranjit Singh fell upon the city, when the city gates were spurned open by the citizens. He now controlled the capital and this was the start of his legendary journey to conquer the entire Punjab. In 1801 he was crowned 'Maharajah of Lahore', and made further acquisitions of Kasur and Kangra in the same year, followed by the holy city of Amritsar in 1805.
The British East India Company thought it time to consult with Ranjit Singh of his future plans. An agreement of friendship was reached and made in 1806, followed by the Treaty of Amritsar three years later, whereby the border between the two powers would be the River Sutlej.
After a series of strokes, Maharajah Ranjit Singh was pronounced dead on the 27 June 1839. His reign fast became a legend in Indian history and his son Kharak Singh was proclaimed the next Maharajah.
[i] The former two men being from the Bhangi Misal