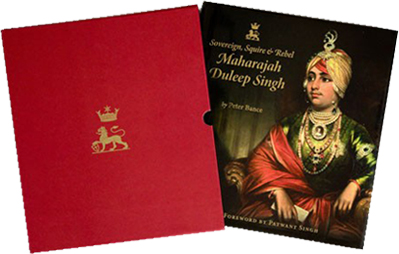 'Sovereign, Squire & Rebel'
 Maharajah Duleep Singh & the Heirs of a Lost Kingdom
CORONET HOUSE PUBLISHING LAUNCHED ITS EAGERLY AWAITED PUBLICATION SOVEREIGN, SQUIRE & REBEL IN MAY 2009. THE STORY OF MAHARAJAH DULEEP SINGH IS RE-TOLD WITH FRESH RESEARCH AND UNSEEN IMAGES IN THIS RICHLY ILLUSTRATED COFFE-TABLE BOOK.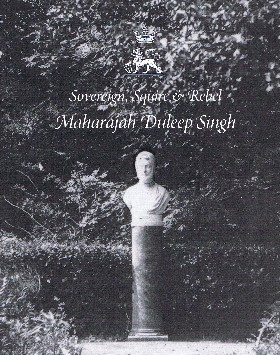 This is the first time that the Maharajah of the Punjab's history has been told in such a high quality publication, featuring over 250 rare photographic images which have been reproduced in full colour on quality art paper. The highly illustrated book is also to be launched as a deluxe edition which will have a gilted cloth bound luxury slip-case.
SOVEREIGN, SQUIRE & REBEL, traces in greater detail the Maharajah's eight children and their partners too. In regards to the Maharajah, his life in Lahore and Fatehgarh has too been greatly researched, whilst images in public and private collections have been reproduced for the first time.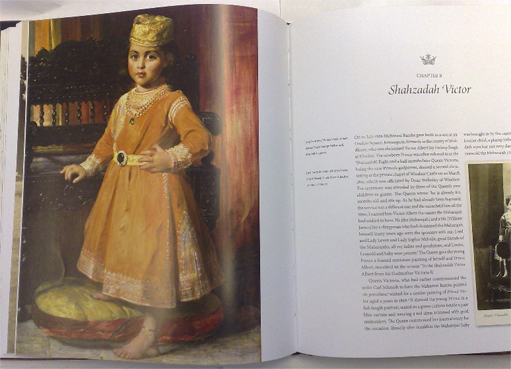 PATWANT SINGH, India's highly acclaimed Sikh historian and author, who has also provided the foreword for this delightful publication, writes "The purpose of this fine book will be best served if the reader remains focused on the reality of what happened during the ten years after Ranjit Singh's death, and till the time Duleep Singh died in a faraway land. British historians excel at verbal nobility in describing their own past glories, and explaining why they went to war and the exemplary manner in which they conducted it. But reality can be quite different. As George Bernard Shaw very aptly put it "… you will never find an Englishman in the wrong. He does everything on principle. He fights you on patriotic principles; he robs you on business principles; he enslaves you on imperial principles …"So it is very good news indeed when Sikh historians like Peter Bance write prolifically to break the mould of make-believe history."
'SOVREIGN, SQUIRE & REBEL – MAHARAJAH DULEEP SINGH & The Heirs of a Lost Kingdom' is available at all major bookstores, and on-line stores. Advance signed copies can be pre-booked via Coronet House.
For more information on SOVEREIGN, SQUIRE & REBEL , and Coronet House
Publishing, click here
To purchase a copy of this exciting book from us
Click here on our 'Bookstore'
Also available from all major bookshops Waterstones, Amazon and eBay