Maharani Bamba Duleep Singh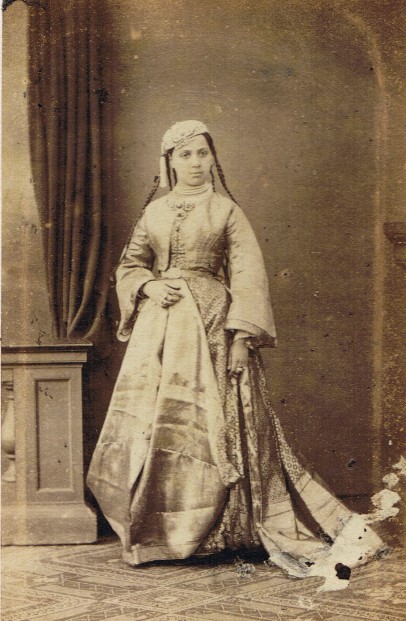 Bamba Muller was born in Cairo in 1847, and grew up at the missionary school. She was the only daughter of Sophia, an Abyssinian lady, and Thomas Ludwig Muller, a German merchant banker and shipping merchant. Ludwig Muller was the only child of a German family, and was brought up by an adopted parent and taken to Egypt for employment.[i] It was during his time here that Ludwig Muller became involved with Sophia, who became his mistress.[ii] A child was born out of wedlock who they named Bamba. Ludwig was a married man and decided to place the baby at the local missionary school where he enabled Sophia to obtain employment as a teacher so that she could be close to their daughter. [iii] .
In the spring of 1864, Maharani Jind Kaur was cremated at Nasik in Bombay on the Panchvati side of the River. The authorities would not allow him to cremate his mother in the Punjab. On the left bank the Maharajah erected a small samadh built as a memorial in the memory of his mother. On leaving India, Duleep Singh wrote to his great friend Ronald Lesley-Melville, that 'he had met a young lady at the mission school who would prove all he wished for as a wife,' announcements were also sent to Lady Login and Mr Oliphant. On returning to England, one of the first people to see the new Maharani of Lahore was Mrs Leven, wife of the Earl of Leven. Dressed in her native costume, in a full skirt and traditional Turkish jacket, on her head was a jaunty cap made of large fine pearls, worn on one side with a long tassel of pearls hanging almost to her shoulder. Mrs Leven quickly wrote to Lady Login of her finds, 'She is remarkably nice looking, with very fine eyes and a sweet expression.' The obvious comparison was made to Queen Victoria's Indian goddaughter, Princess Gouramma of Coorg 'she is better looking than Gouramma, and a size bigger', she added; 'Bamba means pink, and she was pink till six weeks ago when she had jaundice.' The Maharajah was totally besotted with her, showing her off like a prized trophy to all of his friends. He would fuss around her and doctor her on the slightest whim. He would even interfere in everything concerning his wife's attire on which he had some absurd notions. He married Bamba Muller on the 9 June 1864.
After settling down in the confines of their lavish Elveden estate, Duleep Singh and Maharani Bamba decided to try for a child again. In the summer of 1866 the Maharani gave birth to a healthy boy whom they named Prince Victor in appreciation to the Queen. The Maharani was soon kept busy with the arrival of another child, Prince Frederick in 1868. The house suddenly began to fill with children as three daughters and a son followed, Princesses Bamba, Catherine and Sophia, and Prince Edward Albert. On the 17 September 1887 her youngest daughter Princess Sophia caught typhoid, the Maharani prayed beside her little girl and she herself fell in to a coma and died the following morning.
[i] Ludwig later returned to Germany, where his family still reside today
[ii] There is no record or mention in family papers that a marriage took place.
[iii] In 1853 Ludwig Muller (1821-1899) married Charlotte Ellis Eynaud, and they had 9 children